February 20, 2022
BEST BUDGET ENTHUSIAST MECHANICAL KEYBOARDS FOR 2022
This morning I came across an article from XDA, These are the best budget mechanical keyboards you can buy in 2022, yes, that XDA. I've known XDA for years as a great place to go to when needing help to fix an issue or finding the process on how to root a particular mobile device, but keyboards?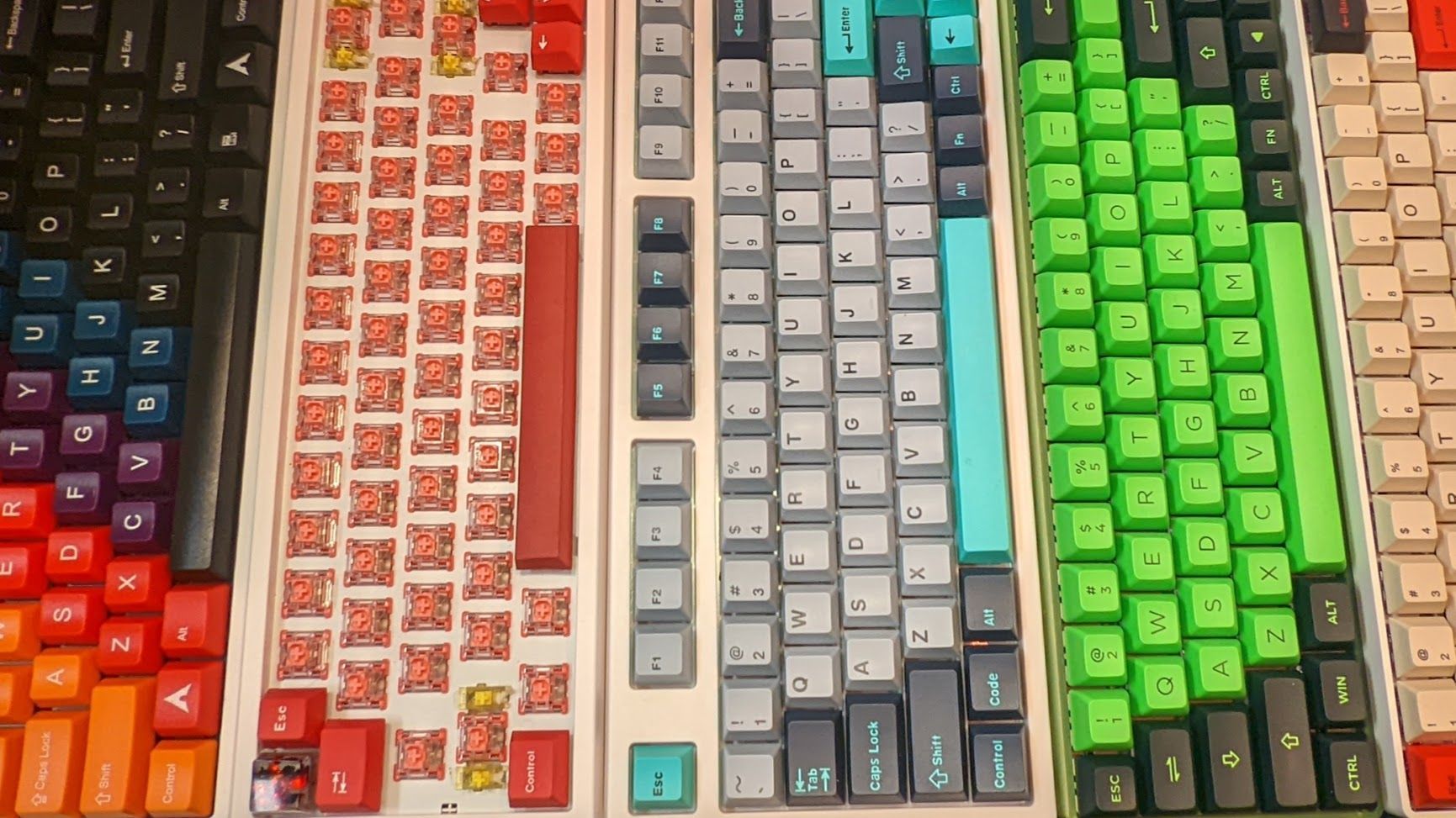 This morning I came across an article from XDA, These are the best budget mechanical keyboards you can buy in 2022, yes, that XDA. I've known XDA for years as a great place to go to when needing help to fix an issue or finding the process on how to root a particular mobile device, but keyboards? After reading this listicle, I thought that the title really should be changed to budget "gaming" mechanical keyboards, as the only true budget enthusiast board on this list, in my opinion, is the RK61. And while the Keychron[1] boards on their list are "budget", I do not consider them "enthusiast" boards, for numerous reasons, but more due to the fact they seem to design their products primarily meant to be used with Apple hardware, when keyboards are and should remain OS agnostic.

But, as to not run off on a tangent, I decided to put together a list that hopefully more closely resembles what budget enthusiasts are truly looking for. The parameters are simple; the board must be below $100, in either kit or full form. I feel $100 is a good cut off point, but some models I list may be sold for a bit higher, depending on vendor or location, and options, so I'll do my best to keep all of this in mind. The boards must also include hot swap sockets. In today's day and age, adding hot swap sockets during manufacturing is a minimal added expense, and with a world of switches to play with, any manufacturer that skips this very basic feature, regardless of the MSRP of the board, screams "CHEAP!" and that keyboard becomes an instant pass from me. As is the case, I will not be including full kits, like the Mercutio, an awesome 40% kit that requires soldering everything from the resistors to the USB-C port, as it is a board intended for people who have experience with soldering or for those willing to learn, and requires more effort to build than the keyboard kits on this list. In this listicle, I will be focussing on boards that are ready to go, perhaps minus switches and keys, but can be modified and improved with little to no ease. So, without further ado, let's begin this journey.
BUDGET BOARDS

CIY TESTER68 / NUPHY TES68 / KEEBMONKEY KBM68
Seemingly out of nowhere, the Tester68 appeared sometime in 2021 as a board that could be bought from the manufacturer for as low as $10 in bulk, from what I have read, and has been purchased and customized by several retailers, including NuPhy and KeebMonkey, while it can also be found on AE/Amazon as the CIY Tester68. Now, this board is officially sold as a "switch tester" and is a wireless only, AAA battery powered board without LEDs, so if a wired connection and or backlights are a must, then you'll probably want to skip this board, otherwise, read on.

This board can be purchased online anywhere in the $15-$35 range, but even at this low of a price, it delivers a reasonable experience right out of the box. It is solidly built including 5 pin switch compatibility hot swap sockets, bottom case dampening foam, as well as a foam layer between the plate and PCB. It sports a steel plate and comes in a plethora of colors. The acoustic profile is on the deeper side with all of the dampeners in place and the stabs come pre-lubed and clipped and are quite solid for plate mounted stabilizers. It is equipped with a 2.4Ghz transmitter and also has Bluetooth (5.0) slots for two devices.
All variants of this board are designed using the standard 68 key, 65% layout, which means all keycaps sets should work, but it must include the 1.75u right shift key (If you have a 3D printer and are missing this size key, you can print your own using this file). The hotswap sockets are compatible with practically every MX type switch in production.
For the price, you really aren't going to find another keyboard with this build quality. Granted, this board would be much higher regarded if it did have a USB port, but that is something a few of our members on r/BudgetKeebs are currently looking into.

If you are just entering this hobby, I highly recommend starting with this board. It offers a great platform from which to try switches, keycaps, and assembling and disassembling, as well as learning about mechanical keyboards in general. This is a great starter board at an price point. Yes, starter board; if you get into this hobby, be prepared to own more than just one keyboard.
Don't say I didn't warn you.
Sound Test (KBM68) with Akko Starfish Switches
Sound Test (Tes68) with Tactile Frankenswitches
CIY TESTER84
Another great board from the same company that manufacturers the Tester68, is the Tester84. This board not only improves on the Tester68, with RGB LEDs and a compact, yet key rich 75% or compact TKL layout, but ups the game with an aluminum frame, and some of the best plate mounted stock stabilizers, making this an extremely solid board that weighs in at just over a pound and a half out of the box.
This board includes a "lock" feature, with an actual physical switch, as far as I can find this board has a "cousin" that has 3-mode capability, and that switch probably acts as an on off switch. This board also includes hardware dip switches, which to date, I've only seen on Ducky boards. These allow for hardware changing keys for Windows and Mac, Windows key lock, and other features. All in all, this is probably one of the most solid boards on this list, especially for the price (Amazon $63, AliExpress $48) [2].
The bottom sound dampener is made from a dark, made to fit, or perhaps even poured, black rubber silicone that is actually quite well taped to the bottom case, adding to that substantial feeling that this board delivers. It truly feels like I should have paid much more for this board based on how well it feels, sounds, and performs .
Complete Teardown, Rebuild, Review, and Sound Test of the CIY Tester84
Quick unboxing of the Tester84
KEYDOUS NJ80
Another quickly growing favorite amongst budget enthusiasts, first seen as the Keydous NJ80 and now also sold as the Epomaker TH80 (I have found Epomaker at the center of many of the Chinese keyboard manufacturers. I plan to do an in depth story as I gather more information). The NJ80 is a partially exploded 75% layout with a knob that was quickly coined the "budget GMMK Pro" as it sports an almost exact layout, missing only one key on the "TKL" column as well as not exploding out the arrow cluster, together with south facing LED PCB, while also one upping it by including three-mode functionality; USB-C, 2.4G, and Bluetooth (5.1).

This board is also quite well built with a top shroud held in place by two screws and several clips along the perimeter of both the bottom case and top housing, both of which are made out of a rigid plastic. Once the top is removed one is greeted by a plate and PCB combination that is held in place by pressure alone. There is a layer of dampening foam sandwiched between the plate and PCB. The PCB has JST connector cables for both the battery and the rotary encoder which are routed underneath an included black silicone rubber dampening sheet. The plate mount stabilizers are not top notch, but can easily be improved or replaced.
Flipping the board over we find it has two pairs of feet, providing for a total of three angles from which to choose when typing. This feature is especially handy for those that need to use a keyboard in multiple environments. We also find a snug spot to store the 2.4G transceiver as well as a physical slide switch to turn the board on or off.
This keyboard can be found on many online outlets ranging from $90 as a barebone kit with a steel plate, to well above $200 with switches, keycaps, and a brass plate. Truly a great board, built with layers of sound dampening, offering numerous connection options for a great base price.
DUKHARO 66
Next up is what I like to call the NJ80's little brother, the Dukharo 66, an semi-exploded  65% three mode board also with south facing RGB LEDs (The first row is north facing, but the remaining rows are south, so no concern of interference). The Dukharo 66 is built so similar to the NJ80, that it's practically the same case, minus the 2.4G transceiver slot, and the layout has just removed the function row and moved the rotary encoder to the where the delete key sits. Internally again, quite similar; a plate and PCB sandwiching foam, with a rubber silicone sheet dampener covering the battery and rotary encoder wires all held in place by the pressure and clips from the top shroud and bottom case.
Now this board does have one small caveat, which is important if you plan to use switches which do not have the LED "window"; the "1" key uses an LED that is taller than the PCB. This is most likely due to the design and the USB-C port being directly below it, so while not a manufacturing defect, I would consider it an engineering issue.  Despite this little niggle, which truly does not affect the performance of the board, some may find the lack of uniformity jarring, it still delivers an extremely solid experience out of the box, just like it's big "brother". Bluetooth and 2.4G both have fairly good range, compared to others I've tested. This is most likely due to the inclusion of Bluetooth 5.1, but I'm just guessing here.
One minor complaint I have with both of these boards is the on and off switch; it lacks legends for on and off (looking at it from the bottom, right is Off, left is On). It's very minor as if it's unplugged and charged, the lights will come on, but I'd prefer to be able to look and see. Also, like it's brother, the included plate mount stabilizers are not top notch, but can easily be improved by clipping the feet, lubing, and adding some band aid/medical tape where they snap into the plate. I don't personally recommend doing the holee mod (placing a small strip of band aid inside of the stabilizer stem), if the stabs are that bad, best to just buy a new set. Many vendors sell decent aftermarket stabilizers that will most likely come pre-clipped. I'm of the opinion that the holee mod adds too much material where there needs to be just the slightest of wiggle to make up and ensure tolerances have some space for any slight differences that may exist.
So if you are looking for a slim, well built 65% layout board with wireless connectivity and a knob, this is a damn fine choice that requires little modification to deliver a deep and enjoyable acoustic profile.
EPOMAKER EP84
And we now arrive at the Epomaker EP84, from a brand who has brought us many favorite budget boards over the last decade, Keycool. The EP84 is a compact 75% layout providing the arrow cluster as well as all of the functionality of a TKL, though some key functions are accessed via layers. This board is available in two models; wired (~$75) and three mode wireless (~$95) although the wireless version is much harder to find in stock nowadays. As an aside, the Royal Kludge RK84 (~$80) is readily available and quite similar to this board and includes 3-mode right out of the box. I do not own this board, hence its exclusion from this list. Unlike the "brothers" though, this board only includes one pair of pull down legs, providing only two typing angles from which to choose from.
This board is also built quite similarly to both the NJ80 and the Dukharo 66 as they have the PCB and plate with a sandwiched layer of felt foam between them, but only held in place by the pressure of the plastic top shroud and bottom housing when snapped together. Unlike the other boards I mention, this board is lacking any below case dampening material, and although not quite as hollow sounding as other boards, does benefit greatly from adding some dense or acoustic type of material to prevent ping and a hollow sound profile.
This board continues to remain popular due to its compact design, decent build quality, and reliability. Despite never having an Epomaker board die to date, I have read of them actually honoring their one year warranty on defective units, which is something that I do not take for granted when purchasing most budget boards, as the majority of these come from companies that are overseas, creating numerous logistic issues even just attempting to file a warranty claim, if they actually offer it.
This is one of the few budget boards that is actually ready to go out of box. I have yet to make any modifications to mine, though I do plan to, but with lubed switches and keycaps, it sounds and delivers a exceptional stock experience.
ROYAL KLUDGE RK100
Next up we have the Royal Kludge RK100, a 96% layout board with 3-mode connectivity, that includes a USB "hub" with two ports and dedicated indicator lights. This board comes in both RGB and single color backlit models for ~$80 at most online retailers, including Royal Kludge's own store. The model I purchased was the "classic" version, with a set of retro keycaps and a single blue-white backlight.
This keyboard is also one that delivers a usable experience stock. I've done only the most minimal of modifications, stabilizers clipped and lubed, and lubed switches (I replaced the stock Gateron Browns with Akko Jelly Blacks) and I can honestly say, that while it's not exceptional, it's more than good enough to be used as a daily driver. And while this keyboard does not include case foam, it has much less hollow space due to it's design. I'm also planning to do a fairly involved modification to make this board appear even more retro, including changing the color of the case.
The RK100 is, in my honest opinion, one of the best choice for folks looking to enter this hobby but still require the functionality of a 100% board, as many people rely on the number pad for daily use and will need time to start adjusting to a new, more compact layout, as is the case for most when switching to a keyboard with a differing layout.
DNA65
The DNA65 is a layered acrylic 65% partially exploded brass plate keyboard kit that can be purchased for ~$70. To be completely transparent, I found this kit on Amazon Warehouse (An Amazon "department" that sells open box and returned items at a significantly discounted prices) for $35, half its usual MSRP, so I may be a little less sensitive to the one caveat that this board has; The LEDs are slightly higher than the surface of the PCB meaning that you can only use switches with an opening for LEDs on their bottom housing.
With this one caveat out of the way, I really actually like this board. There are quite a few bad reviews out there, but I was willing to give it a chance, and I've haven't regretted it, this board delivers a nice experience, with only lubing the stabilizers and restacking the acrylic layers, though adding some thin neoprene strips between the layers does add a bit of a "gasket mount" like feel.
The DNA65 may not be for everyone, but it started me down the stacked acrylic path of which I now own three of, all which deliver what I can only describe as a thick "marble" like acoustic profile. The board sits at a slight angle with a screwed in acrylic "foot", which can be removed and used without the tilt, but I like the angle that the foot provides. Below you can find more details of the build quality and the sound profile of a mostly stock DNA65 keyboard.
I included this board in the list because I think that stacked acrylic boards tend to deliver a deeper sound profile close to what many have coined as "thock", although sound profiles can be quite a subjective topic.

DNA65 teardown, lubing stabilizers, reassembly, and sound test
DNA65 with Akko Jelly Black switches (stock) sound test
GMMK TKL KIT
I haven't really been a gamer since around the PS3 and Xbox 360 days, and as such I was not aware of Glorious as a company until I came across the GMMK Pro release. I later learned they had previously released a 65% (Compact), a Full Size, and a TKL "floating key" mechanical keyboard kits. Being a big fan of the TKL layout from the get go, when I came across the GMMK as an open box item for $42 ($80 MSRP) I just could not pass it up.
When this kit first arrived, I was surprised at the weight of it. I knew it came with a steel plate and a plastic case, so I expected something lighter than the 808 grams of weight it delivered in it's compact, yet solid frame.

This is another board which I have done only the most minimal of modifications to; lubed and tapped the base of the stabs, although they were fairly solid to begin with, and o-ringed the keys. I have used this board in this manner for a few weeks at a time. First with Akko Matcha Green switches and now with CIY Evo Red switches that have replacement 80g springs.  This kit delivers a solid and reliable experience with minimal effort and at a good price point, especially keeping in mind that this board still has room for further improvement.
One of my only complaints about this board is that it only has compatibility with 3 pin switches, meaning 5 pin switches must have their plastic legs clipped in order to be used in this board.
ROYAL KLUDGE RK61
The RK61, Royal Kludge's "clone" Anne Pro 2 board. If I held a poll of readers who have been in this hobby for any amount of time, I'd be willing to bet that the majority would check that they own or have owned the either the RK61 or RK68, the 65% version of this kit. This board is regarded as one of not only the first three mode connection offerings, but also one of the best rated budget boards, retailing for ~$50, but can be found during sales times for much, much lower, especially the wired only model. Regardless of the price range, this board does deliver, but like other boards in our hobby, truly shines after modifications.
While it's a perfectly usable board out of the box, "usable" is not exactly why we are in this hobby. Adding sound dampening, lubing, clipping and taping stabs, as well as adding some weight takes this board to its apex, making it difficult to distinguish this from other pricier boards. In my case, I used pennies and two part silicone to take the weight of the board up to 806 grams from it's default weight of 700g. I also foamed the plate to create a layer of dampening between it and the PCB, I then taped the back of the PCB with a layer of blue painters tape, making sure to make holes for the stand offs. I pour just enough silicone, any more and the USB-C port would not line up inside the case. The bottom of the RK61 is not cavernous but definitely benefits from adding a layer of dampening under the PCB.
If a 60% board is what you want, you owe it to yourself to give this board a go, it's well worth the price and has much potential just waiting to be brought out, but watch the videos below and decide for yourself.
RK61 Full Mod Video and Sound Test with Akko CS Ocean Blues

RK61 Sound Test with CIY Evo Reds
CIY X77
Now we come to another CIY offering, though one that is not in the Tester series, the X77. A TKL steel deck plate with a magnetic plastic top shroud and plastic bottom housing. This model comes in both black with a silver shroud and a black deck, as well as white with a white deck for ~$50.
Unlike the other CIY units on this list, this board, while decent out of the box, will need to be modified to reach it's true potential. Lacking any foam between the PCB and plate as well as sound dampening below the PCB. The plate mounted stabilizers are very decent, preclipped as well as prelubed, so require minimal work beyond perhaps just adding some medical tape to the point where they clip onto the plate for that extra bit of stability, though they are decently solid out of the box.
I've pretty much settled on two part silicone for filling the empty spaces on the bottom half of keyboard cases. After trying all of the different types of foam, I found that I prefer not only the deeper acoustic profile it provides, but also the extra weight. It's also, in my option, one of the most flexible, as it allows one to pour more evenly and get every single cavity that the bottom half may have, always ensuring to keep the silicone line at least 2-3 mm below the top of the post or more depending on the width of the pcb and plate.
This "kit" is one of my favorite budget TKLs. It includes 5 pin compatibility, has two pull down legs, providing for three typing angles, and includes a magnetic top housing which allows one to instantly change the look of the board, which I have had much fun with. I am also of the opinion that this board hands down beats Drop's ENTR, their entry level TKL. The CIY is better in numerous respects; two pairs of feet over one, RGB over single backlight, hot swap sockets over soldered, and despite the fact that the CIY has a plastic bottom, it weighs only 90 grams less than the Drop [5], making it feel much more substantial.
All in all, if you are set on a TKL, and the GMMK is a bit out of your budget, this board is an easy choice.
GAMAKAY LK67
Welcome now to one of the favorite boards on mine and many others' list, the Gamakay LK67, a board that can be found online from $60 and up. Yes, this board is sold by many different names, from numerous "different" companies, but they are all manufactured by Aflion as a white label board for numerous different brands. And while I have read online some people try and compare the different models (TOM680/TM680/TOM68) claiming to delineate one brand being better than another, what I have personally found, after building out and modifying over a dozen of these boards (As commissioned builds, I only own two myself), is that they do not seem to differ much at all from brand to brand, but I have found that there have been at least two revisions over the first one of these boards I ever received. Since the first unit, the revisions have not only improved upon the PCB quality, but have added a layer of foam between the plate and PCB, as well as significantly improved on the pre-installed plate mounted stabilizers. The latest revision can be distinguished by the color of the stabilizers; if they are any color other than black, the board they are attached to is the latest revision.
Although this board is commonly sold as a three mode connection board, it can also be found as a wired only model, which is much lighter than it's wireless counterpart primarily due to the lack of a battery. Although I don't often use wireless, I prefer this version over the wired only one. Regardless of model, this board still improves when it has been modified to fill the hollow space beneath, and again, I prefer to use two part silicone, not only for the sound profile in this board, but also to prevent blocking the LED diffuser windows for the underglow this versatile board offers.
This board has become extremely popular over the last year and a half, I would assume due to the layout, an exploded 65% with a potentiometer knob, and multiple connectivity options, but also for the fact that it is available in numerous colors besides just the standard white and black. From pink to teal and semi transparent to solid, there are quite a few colors this board is available in.
Pink and Purple Sunset commissioned LK67 build

ULTRA BUDGET BOARDS
NPET K63 (Soldered version of the Tester 68 without any acoustic dampening) [3]
At $17 from Amazon, the NPET K63 is about one of the cheapest boards you can find, not on sale. Although this board does not come with hot swap sockets, it can be somewhat modified before pulling out a soldering iron, but would truly shine once desoldered and fully modded. I am currently working on making a video of desoldering and taking this board to its peak level, but I did make a video of what can be done without desoldering, and despite not top level, it's actually quite good.
I feel like this keyboard is a great "pet" project for those looking to get into keyboards and modding but want to try things out on a board they would not suffer should something go wrong, as the initial investment is so minimal in comparison to practically all others.

How good can a soldered $17 keyboard from Amazon actually sound with a bit of work
Quick unboxing of the NPET K63
Eyooso Z11 [4]
While the last keyboard on this list, it's actually one of my personal favorites. Being one of the first boards I found that truly let me go loose and modify without the fear of ruining something much pricier. Normally listed for ~$20 for the single color backlit version, to ~$30 for the RGB backlit one, they regularly go on sale. I have purchased a handful of the single backlit models for $8.99. $9 for a mechanical keyboard with hotswap sockets?!?! Did I hit the lottery?
But even considering this board at its average sale price, it still delivers much more than one thinks it should; a standard 60% layout, with USB-C connectivity, on the side, a steel plate over a plastic bottom case, one pair of feet, for two angles of typing, and multiple LED effects. This board is perfect for anyone starting out in this hobby. So much so, that my high school aged teenagers are all sporting one of these boards with switches they've picked out, and at least assisted me during the modification process.
In my opinion, for the price and potential, this is one of the best boards from this list to get started with, especially if you are intending to go with Akko switches, as they make for an excellent combination and gives you a perfect platform from which to build upon to reach the board that satisfies that "itch"; and at $8.99 when on sale, one really cannot go wrong.
Sound comparison of a stock Z11 versus a modified one
Sound test of a modified Z11 on a table
In closing, I'd just love to share how much I am enjoying this hobby. I have been working in IT for the majority of my life, and as such, the keyboard is one of my primary tools. I bought my first mechanical board from a Kickstarter, the Disco TKL, a board developed in collaboration with Ducky and MechanicalKeyboards.com, with KBTalking Blue switches, and used it as my daily driver, without modifications, up until the beginning of the pandemic, when I really started to climb down into the rabbit hole. Since then I've only continued to dig further and further into this wonderful hobby, primarily focussing on modifying "budget" level boards aiming at bringing out the "keyboard hidden within". I've also started to dabble in frankeswitches; switches that are made from mixing of components from two or more switches.
I also started r/BudgetKeebs on Reddit last year to focus on more budget minded boards, as r/mk is more focussed on higher end kits. The subreddit is growing at a tremendous pace as more and more people find a sub showcasing many wonderful builds that did not require a small loan to build! I'm being hyperbolic, but only by just a bit; some beautiful renders I have seen are nearing $1K in price and won't ship for 1.5 years. While I can appreciate smaller creators coming together and using crowdfunding to cover the cost of bringing their dream to market, when an established company does this, they are in essence placing all of the "risk" onto the consumer. Unless it a commissioned product, I'm of the opinion that the business is the party that should be taking the risk bringing a product to market. An established company has access to loans and credit lines, and while farming suggestions from the community is more than welcome, they need to release in-stock products. Groupbuys should be a thing of the past, in my opinion. I can't think of another industry that requires the customers to pay up front before a single unit is even produced.
That said, this hobby has brought me much serenity and enjoyment. It actually has helped to lower my blood pressure as it provides me something that I can do with my hands, that while obviously requires some thought, it's in a completely different vein than my everyday world of coding logic. There is so much to enjoy with this hobby, for me anyways. I could endlessly try combinations of case materials, switches, keycaps, modifications, alternative methods of doing X, and ad infinitum. As my wife, who has also started to get into the hobby by making artisan keycaps and wrist rests, but wanting to move into keyboard mats next, is fond of saying, "It's like Lego for adults". Granted, I have friends who are still into Lego, I feel like her saying truly applies.
One thing you may have noticed missing from each keyboard entry is any mention about software. Some of these keyboards include their own version of the same closed source Chinese Windows based software that allows only for the most basic of customizations, some have no software at all and can only be controlled via keyboard shortcuts or DIP switches, but since I run Linux as my primary OS, unless the board is QMK/VIA compatible, I turn to Kmonad should I need to modify how my keyboard works with my workstation. If you've never heard of Kmonad, you really should just glance at the features it has, and it works with all major operating systems.
While this list is not comprehensive and does skip over budget "kits" that are out there, I wanted to "stick" as closely as possible to a list of budget mechanical boards that would be more better suited to folks just getting started, though it's by no ways limited to that audience. My primary intent is to provide enough information for readers to make an informed decision, whether just starting out or looking for a new board; an article that would have come in handy when I first started truly burrowing further down into the hobby. I hope that this article will assist others in further narrowing down their decisions. And if anyone is left with further questions, feel free to hop on over to our subreddit and ask a question, I'm sure myself or one of growing group of members would be more than happy to help.
Keep Calm and Keyboard On.


FOOTNOTES
[1] Every Keychron board I've owned has had issues with Linux, and the only "support" they offer is a Facebook group. On a side note, even though I purchased my boards from Keychron directly, I joined the group to find help with an issue of my keyboard not working on PCs with encrypted partitions. No one was able to help, but after some digging I found that because Keychron basically reports as a Mac keyboard, there are some modules that the kernel needs to load prior to asking to unlock the encrypted partition, so I wrote up a fix, posted it on Github, and shared it on the group. Shortly after the "admin" banned me from the group, while also calling me some colorful words. Keychron support then offered me no solution.
[2] None of my links are sponsored or affiliate links. I only provide links as examples, it is not an endorsement of any retailer or shop on said platform. But just a word of warning, AliExpress not only takes a long time to arrive, they at times send wrong, broken, or missing items, and the process of trying to get a refund from them is akin to dancing with insanity. They literally want a customer to pay $40+ to ship a defective or DOA item back to China that cost $38 without promise of reimbursement. Unless you trust your bank's credit card fraud dispute process, I highly recommend against using AliExpress if at all possible.
[3] This board is sold for under $20 on Amazon and other sites, but to get the best experience out of it, you'd want to have at least some basic experience with soldering and desoldering.
[4] While this is a great 60% board that sometimes goes on sale for as low as $9 on Amazon for the single color LED version, it uses Outemu MilMaxx style individual round standard PCB sockets, not like Kailh, Gateron, and other single piece hot swap sockets, which use more of an arm with two slot style sockets on each end and are the type used on the other boards in this list (Picture of socket differences). This means that only switches from certain brands will work (Akko, Outemu, Inyr, Aflion, Boba among others) with these sockets, primarily due to some manufacturers making one leg slightly wider than the other (Kailh, Gateron). Akko switches work fine with these boards and come in a variety of types and spring weights that are well worth taking a look. A good switch can be had without spending ~$1 per switch, despite what some may say.
[5] If you are wondering why I have not included any Drop boards in this list, it is due to the fact that while I believe Drop boards are of budget quality (soldered, no dampening, poor stabilizers, etc.) they are sold at mid-range prices. While I do occasionally shop @ Drop and they do offer decent customer service, they sometimes carry and sell products for far more than they are worth and make decisions that, in my opinion anyways, are complete headscratchers.